I decided to post this recipe here just in case I ever misplace it again. Go ahead and try it, you'll just love it. Trust me. BUT, please do not submit this recipe anywhere as your own. If you want to share it, instead of putting the recipe on your blog, please link it back here.
It was given to me by my old neighbor. He was (10 years ago) a widower and in his late 60's. He took a liking to me and my kids because he didn't like what he saw of my ex husband (note the EX husband). He'd invite us over for tea and cookies. He always had these cookies in the fridge and one day I asked him where he got the recipe. He told me it was his own and the secret was the 'fruit sugar' instead of anything else. He gave it to me because he didn't have any children to give it to. I felt honored.
I ended up splitting from my ex and shortly thereafter moved to Texas. I don't know if Peter is still 'with us' but I think of him many times a year, every time I make these cookies. Thank you Peter.......

Peter's Shortbread Cookies

1lb butter (has to be butter)
1 cup fruit sugar (+some for rolling after baked)(has to be fruit sugar....no substitutes....can be found in baking stores)
1/2 tsp or less salt
1/2 cup Corn starch
3 1/2 cup flour (+1 cup flour)

Make butter very soft. It is easier to mix this way. A little tip is to cut butter in small pieces and place in a bowl that is sitting in hot water in the sink. This will melt it so watch that it does not separate. Mix so it does not separate.

Mix butter, salt and fruit sugar. Blend thoroughly. Add cornstarch. Add flour gradually. you may have to knead by hand.
Take one additional cup of flour and add small portions as you mix until dough begins to crack. you may not use all of this last cup.
Roll out 3/8" to 1/2" thick, in squares or cookie cutter.
Cook at 325F for approximately 20 minutes. Watch closely as they are easy to over cook
Take out when they have a golden tint.
Roll in fruit sugar when cool enough to handle. Store in fridge or freezer for best taste.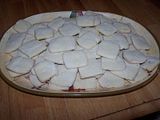 It took me about 2 hours from getting the ingredients out to cleaning up when they were allllll done.
Here is the finished product....made about 80 cookies or 6 1/2 dozen.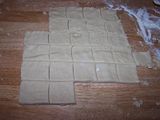 This is what they look like when I roll them out (I couldn't find my rolling pin so I used my hands and a glass.....lol) and cut them into 'squares'.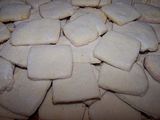 My cat even wanted in on the action. He jumped on the cookie sheet.....I was not amused to say the least. But when I saw the pawprint I just had to leave it!! lol
So, I'm letting them cool down and then going to put them in the freezer. They are definitely the best when they are cold. They melt in your mouth, literally!!